Tutti
In music, all together.
Together, we can create an inclusive and welcoming environment for all.
Our Commitment to a Diverse, Inclusive, and Equitable TSO
The TSO seeks to serve broadly diverse communities by sharing meaningful artistic experiences that can be enjoyed by all and that foster social inclusion and societal well-being.
In the 100 years since the Toronto Symphony Orchestra was formed, much has changed in the composition, diversity, and values of the communities we serve. The TSO embraces these changes and commits to become a leader in championing equity, diversity, inclusion, and the process of Reconciliation, in order to remain relevant to our communities. We are dedicated to providing orchestral music at the highest artistic level to an audience that reflects the cultural diversity of Toronto.
By building awareness through education, community engagement, and establishing partnerships, the TSO seeks to attract new and diverse audiences and become an essential part of Toronto's cultural fabric.
We strive to create an environment where individuals of any background or identity are given equal opportunities to succeed, whether as musicians, staff or volunteers. We do this because diverse and inclusive organizations are more collaborative, creative, and innovative—traits which are important to the success, sustainability and well-being of our organization and our people.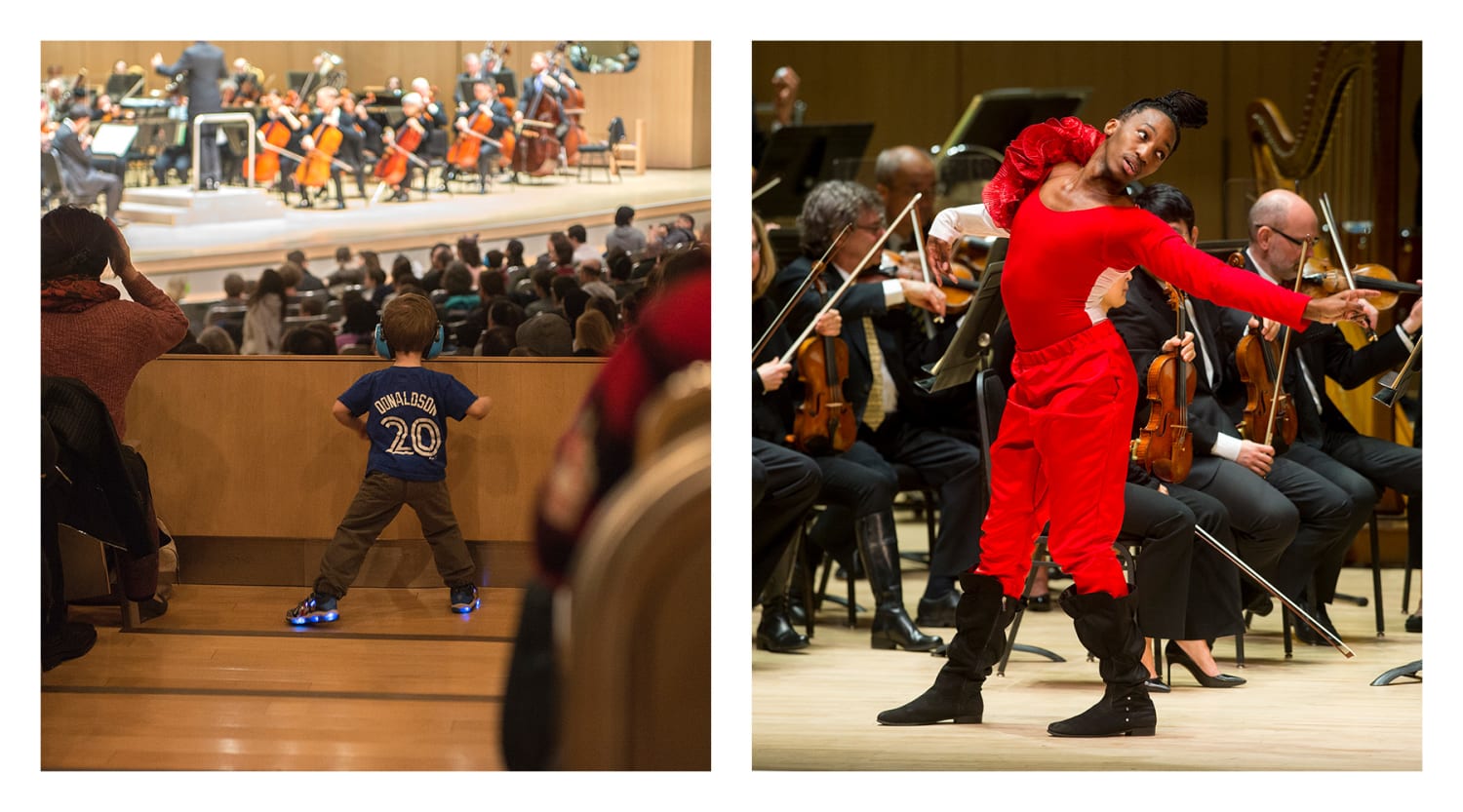 TSO Relaxed Performances welcome neurodiverse audiences (left)
Just Dance, 2018 Young People's Concert (right)
Land Acknowledgement
Please join us in acknowledging that the land on which we gather and perform is the traditional territory of many nations, including the Mississaugas of the Credit River, the Anishinaabe, the Chippewa, the Haudenosaunee, and the Wendat peoples, and is now home to many diverse First Nations, Inuit, and Métis peoples.
We further acknowledge that this city, Toronto, is within the territory governed by the Dish With One Spoon treaty between the Anishinaabe, Mississaugas, and Haudenosaunee, which bound them to share the territory and protect the land, and that subsequent Indigenous Nations and Peoples, Europeans, and all newcomers have been invited into this treaty in the spirit of peace, friendship, and respect.
As we celebrate 100 years of community-building and sharing the healing power of art, we are grateful to live and make music on this land.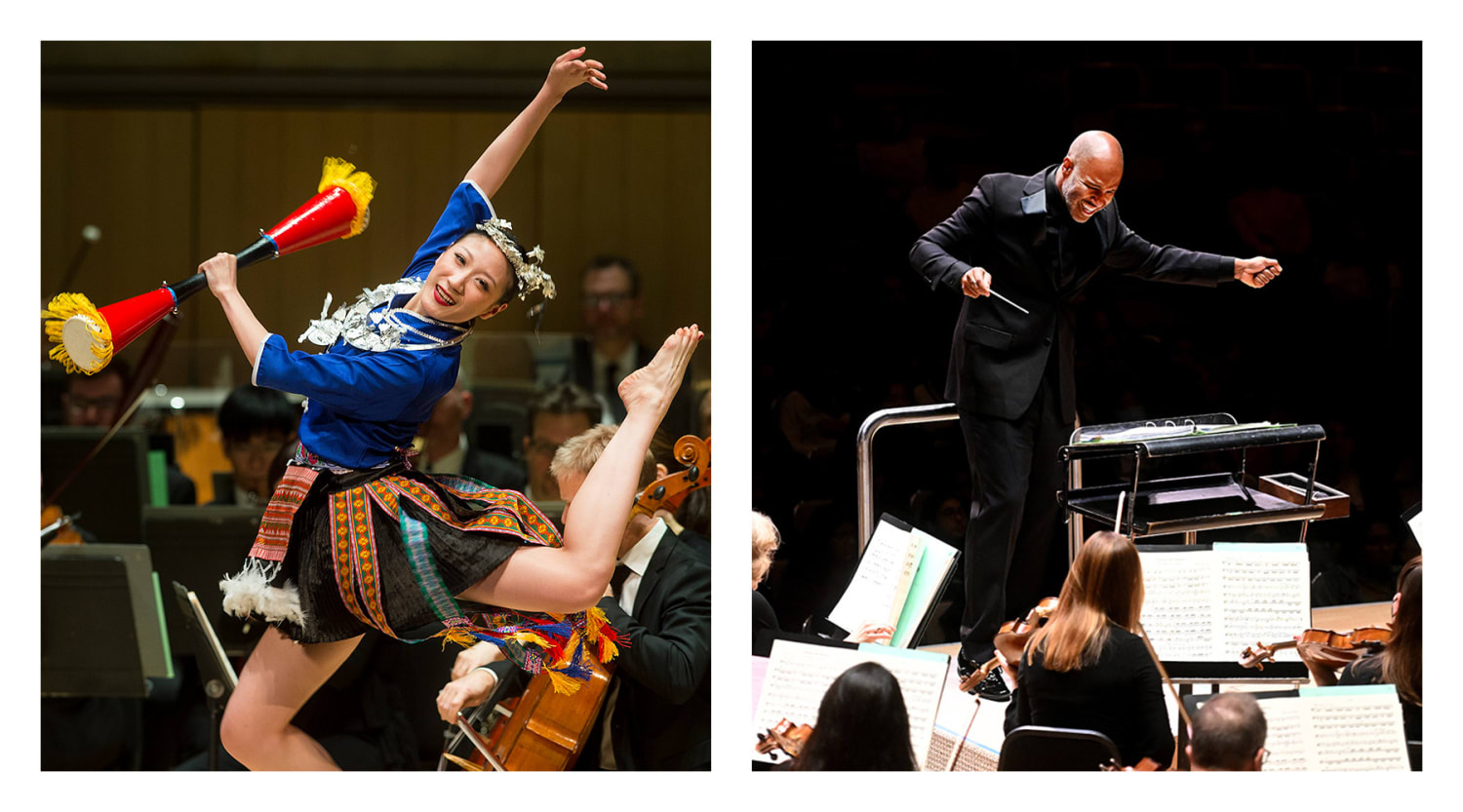 Just Dance, 2018 Young People's Concert (left)
Daniel Bartholomew-Poyser, Barrett Principal Education Conductor & Community Ambassador (right)
Code of Conduct and Ethics for All
Toronto Symphony Orchestra patrons should expect a safe, comfortable and enjoyable concert experience. Your TSO is committed to ensuring a welcoming and harassment-free environment for everyone who attends our performances, including, but not limited to, people of all races, religions, ethnicities, sexes, gender identities and expressions, sexual orientations, abilities, and physical appearances.
All TSO patrons will be treated in a consistent, professional and courteous manner by TSO staff, venue staff, musicians, and volunteers. Further, we expect all patrons to treat fellow patrons, guest artists, musicians, and TSO representatives in the same manner by adhering to the following Code of Conduct at all our events:
Be considerate in speech and actions.

Respect the boundaries of others.

Present your ticket when requested and sit only in your designated seat location.

Refrain from:

demeaning, discriminatory, or harassing behaviour and speech, inappropriate physical contact, and causing unwelcome attention,

bringing prohibited items to our performance venues, including outside food, beverages (including alcohol), illegal drugs and drug paraphernalia, and weapons of any kind,

smoking within our performance venues, including e-cigarettes and vaping,

disturbing the performers or fellow patrons,

displaying violent behaviour, and

being intoxicated.
Please take care of each other. If you are subject to, or if you witness a violation of our policies, please let the closest staff member know as soon as possible.
Thank you for adhering to this Code of Conduct, and for helping to make our performances an enjoyable and memorable occasion for everyone.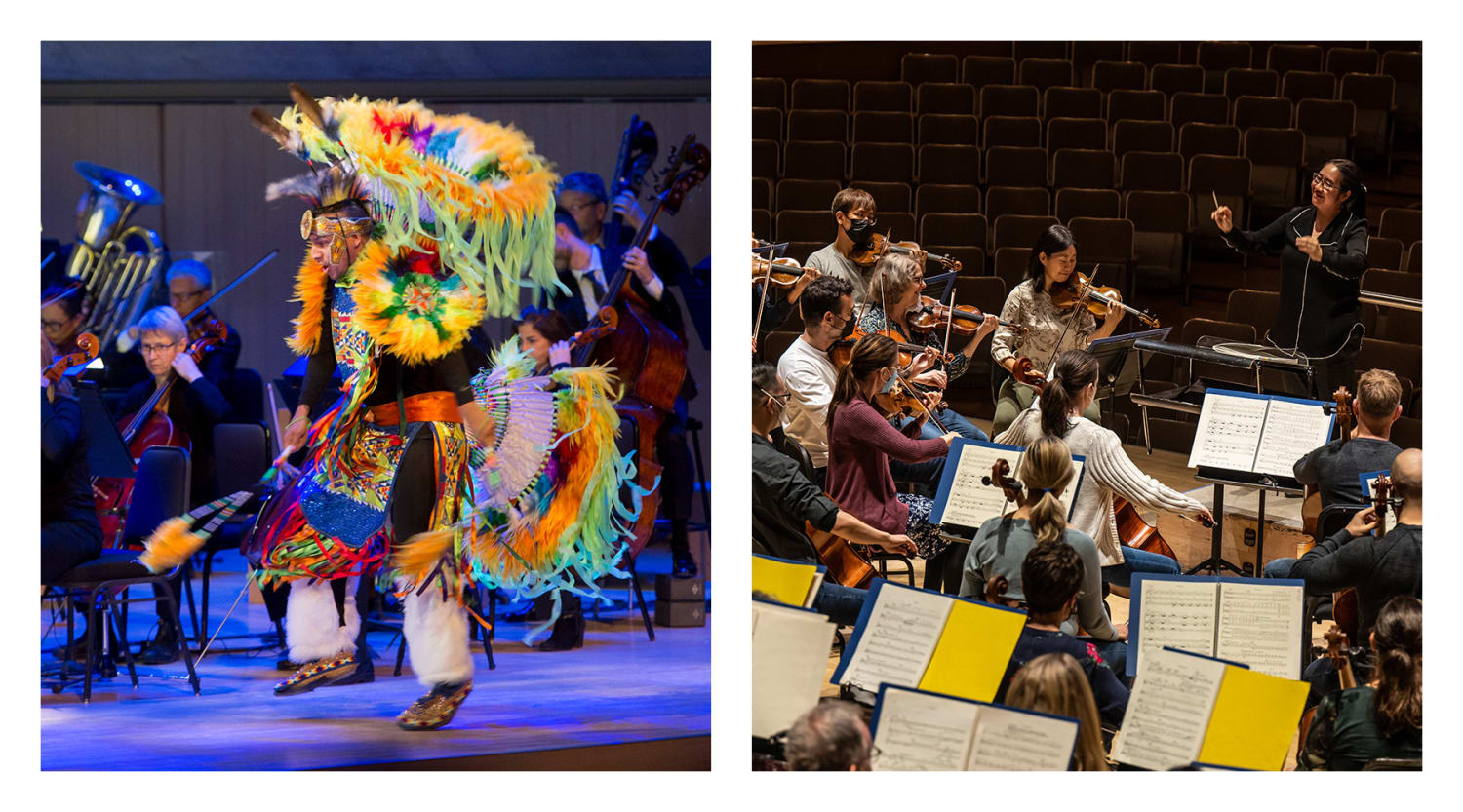 Adizokan, 2017 world premiere with Red Sky Performance (left)
Jennifer Tung, Women in Musical Leadership Conducting Fellow (right)
Contact Us–We Are Listening
Please share your thoughts, observations and recommendations on how we can make experiences with your Toronto Symphony Orchestra more inclusive and welcoming for all.
Email us at feedback@tso.ca.