Azure Restaurant
225 Front Street West
416.597.8142
Park + Dine at Azure Restaurant & Bar
Valid on date of TSO ticket.
Show your TSO ticket to Azure Restaurant & Bar to receive one (1) complimentary Valet Parking. Valid with $75 food consumption, not including alcoholic beverages, taxes, and gratuities. Value of $45 per night.
(Located at InterContinental Toronto Centre)
Official Hotel Sponsor
The Ritz-Carlton, Toronto
181 Wellington Street West
416.585.2500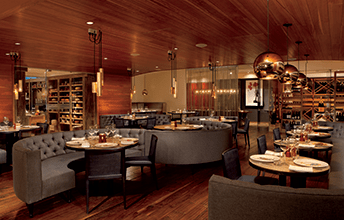 TOCA
Ritz Bar
EPOCH Bar and Kitchen Terrace
For the Ultimate Dinner Experience
TOCA is located on the mezzanine level of The Ritz-Carlton, Toronto, directly across the street from Roy Thomson Hall on Wellington Street West. Join us for lunch before or after a matinee show, or begin a memorable evening with a dinner before the concert. Guests can always enjoy Valet Parking and signature Ritz-Carlton service. TOCA is proud to collaborate with Chef Oliver Glowig, one of Rome's most celebrated culinary leaders. Offering handcrafted Italian cuisine complemented by seasonal flavours and locally-sourced produce, TOCA has been celebrated as one of Toronto's top Italian restaurants.
Dine at TOCA Restaurant
TOCA Restaurant offers a 15% discount for all Maestro Club Members.
Please email info@tocarestaurant.com or call 416.572.8008 to make your reservations.
Maestro's Club Hospitality Sponsor