General
Toronto Symphony Youth Orchestra (TSYO) returns to Koerner Hall
April 20, 2016
The Toronto Symphony Youth Orchestra (TSYO) returns to Koerner Hall for their annual Spring Concert on April 21. The heart-stirring program conducted by Shalom Bard features Prokofiev's dramatic Symphony No. 5 and Beethoven's Egmont Overture. The evening also spotlights the exceptionally talented Emma Morrison—a winner of the 2014/15 TSYO Concerto Competition—performing the beautiful first movement of Barber's Violin Concerto.
This concert will celebrate Shalom Bard as he concludes his successful four-year tenure with the TSYO. Shalom was appointed conductor of the acclaimed Toronto Symphony Youth Orchestra in 2012 in conjunction with his role as the TSO's first RBC Resident Conductor. Shalom's leadership has been particularly meaningful to members of the TSYO as he was, himself, a member of the clarinet section in the mid-1990s. Under the mentorship of TSO Music Director Peter Oundjian, Shalom has led the youth orchestra through many memorable concerts, including the spectacular 40th anniversary concert, which took place in April 2015. An accomplished musician and a devoted, passionate educator, Shalom has become a role model for TSYO musicians. Shalom looks forward to pursuing his expanding conducting career (he is also the conductor of the University of Western Ontario Symphony Orchestra) and continuing to accept new engagements as a guest conductor.
"The TSYO has been so fortunate to have been under Shalom's leadership these last four seasons. Shalom's thoughtful musicianship and enthusiasm as an educator have brought renewed inspiration to the young musicians of the TSYO," comments Peter Oundjian. "He will be missed, and we wish him all the best in his continued career."
The TSO is proud to announce that current RBC Resident Conductor Earl Lee has been newly appointed to the position of TSYO Conductor beginning September 2016. Earl will take on both TSO/TSYO conducting roles as part of the RBC Emerging Artists Program.
Toronto Symphony Youth Orchestra Spring Concert
Thursday, April 21 at 7:30pm
Shalom Bard, conductor
Emma Morrison, violin
Beethoven: Overture to Egmont
Barber: Violin Concerto – Mvt. 1
Prokofiev: Symphony No. 5
TICKETS: $23.50–$35.50
Koerner Hall, TELUS Centre for Performance and Learning
To purchase tickets, call 416.408.0208 or visit http://performance.rcmusic.ca.
This concert will be filmed by Fibe TV1 for later broadcast.
The TSO would like to thank the TSYO Tuition-Free Champions and CIBC for their generous ongoing support of the TSYO during the 2015/16 season.
Looking for a distinct way to support the TSYO?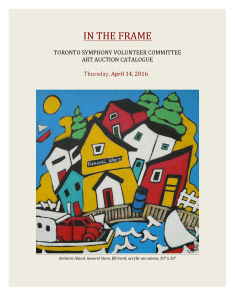 Don't miss IN THE FRAME: Art as an Investment—an auction of works by Canadian artists in support of the TSYO, presented by the Toronto Symphony Volunteer Committee (TSVC) on April 14, 2016. Click here for details.
TSYO: https://www.tso.ca/toronto-symphony-youth-orchestra
Facebook: https://www.facebook.com/TheTSYO/?fref=ts
###
To download photos of Shalom Bard and Earl Lee, please visit: https://www.tso.ca/publicity-photos
Media Contacts:
Francine Labelle
Manager, Publicity
Toronto Symphony Orchestra
416.593.7769 X 267
flabelle@TSO.CA
Melissa Prince
NATIONAL Public Relations
416.586.1939
mprince@national.ca
Alison Crocker
NATIONAL Public Relations
416.848.1624
acrocker@national.ca