General
Toronto Symphony Orchestra New Recording of Massenet: Thaïs on Chandos Label
May 28, 2020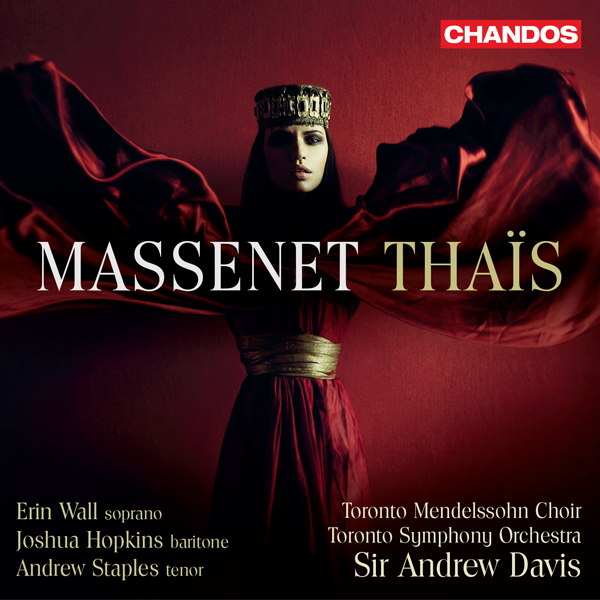 Now Available on Spotify, iTunes, and Apple Music
For immediate release—May 29, 2020: In the absence of being able to perform live in its concert hall, the Toronto Symphony Orchestra (TSO) is especially pleased to announce the release of a new recording of Massenet's emotionally riveting opera Thaïs on the prestigious Chandos label. Massenet: Thaïs is now available for streaming on Spotify and Apple Music, and for purchase on iTunes. Conducted by TSO Interim Artistic Director Sir Andrew Davis, and featuring a cast of renowned Canadian and international singers, with the Toronto Mendelssohn Choir, Massenet: Thaïs was recorded live by Soundmirror, Inc. at Roy Thomson Hall in Toronto in November 2019.
The TSO has a highly respected recording history, and Thaïs is the fifth recording with partner Chandos, following on the heels of 2019's Berlioz: Symphonie fantastique, also conducted by Sir Andrew Davis. Other TSO GRAMMY® Award– and JUNO Award–winning Chandos recordings include 2018's Vaughan Williams: Orchestral Works, conducted by Conductor Emeritus Peter Oundjian, and 2016's Handel: Messiah conducted by Sir Andrew Davis.
"I am beyond thrilled at the release of this recording of our concert performances of Thaïs last year," says Sir Andrew Davis, TSO Interim Artistic Director. "The opera's beguiling music and its undeniable grandeur and opulence belie the personal, emotional drama at its heart. The exceptional TSO musicians, remarkable cast of soloists, and the wonderful Toronto Mendelssohn Choir have made this a particularly special recording for me."
According to the Financial Times, Canadian soprano "Erin Wall is the Thaïs of one's dreams, wielding a soprano of radiance, pristine beauty and tingling top notes," and she is joined on the recording by fellow Canadian baritone Joshua Hopkins in the role of Athanaël, with tenor Andrew Staples as Nicias, Canadian bass-baritone Nathan Berg as Palémon, and the Toronto Mendelssohn Choir.
"I would like to congratulate all of the artists, our recording partner, Chandos Records, and our sound engineers, Soundmirror, Inc., for this beautiful recording. It is particularly meaningful to be sharing this special opera-in-concert with the world during a period in our history when we are feeling the absence of live musical experiences so acutely. Thaïs is filled with the ideals of beauty and redemption, and with timely themes of hope and change, this TSO recording reminds us all of what can be made possible through music," says Matthew Loden, CEO of the Toronto Symphony Orchestra.
Thaïs had its première at the Paris Opera in 1894 and was met with a mixed reception. After Massenet revised it in 1898, it went on to worldwide success in the years leading up to World War I, and has enjoyed continuous and growing acclaim in our own time. The "Méditation", which serves as an interlude in Act II, is known to millions, including those unfamiliar with the opera.
Massenet: Thaïs
Toronto Symphony Orchestra
Sir Andrew Davis, conductor
Jonathan Crow, concertmaster
Toronto Mendelssohn Choir
David Fallis, Interim Conductor & Artistic Director
Erin Wall | Soprano
Joshua Hopkins | Baritone
Andrew Staples | Tenor
Nathan Berg | Bass-baritone
Liv Redpath | Soprano
Andrea Ludwig | Mezzo-soprano
Emilia Boteva | Mezzo-soprano
Stacey Tappan | Soprano
Neil Aronoff | Baritone
The TSO dedicates this recording to the late Hans Brenninkmeyer. Together, he and his wife, Susan, generously supported the appearances of Sir Andrew Davis as Interim Artistic Director.
The TSO Season Presenting Sponsor is BMO Financial Group.
The Toronto Symphony Orchestra is generously supported by the Canada Council for the Arts, the Ontario Arts Council, and the City of Toronto.
Twitter: @TorontoSymphony
Facebook: facebook.com/torontosymphonyorchestra
YouTube: youtube.com/torontosymphony
Instagram: instagram.com/torontosymphony
About the TSO: One of Canada's most respected arts organizations, the Toronto Symphony Orchestra (TSO) plays a vital role in the city's dynamic cultural life. Committed to serving local and national communities through vibrant performances and expansive educational activities, the TSO offers a wide range of programming that resonates with people of all ages and backgrounds. With a notable recording and broadcast history complementing international touring engagements, the TSO is a unique musical ambassador for Canada around the world.
The TSO continues its long-established history of connecting younger generations with orchestral music through core programming like School Concerts, performed for over 40,000 students annually, and the Toronto Symphony Youth Orchestra (TSYO), which offers high-level orchestral training for talented young musicians. Additionally, the TSO supports the development of next-generation artists through its annual open call for Canadian orchestral scores, and its essential Resident Conductor and Affiliate Composer positions.
Sir Andrew Davis has served as TSO Interim Artistic Director for the 2018/19 and 2019/20 seasons, prior to the arrival of incoming Music Director Gustavo Gimeno in 2020/21. Sir Andrew Davis is well known to Toronto audiences, having a 45-year relationship with the TSO and returning to the TSO stage regularly.
Soon to celebrate its centenary, the Toronto Symphony Orchestra's name remains synonymous with musical versatility and growth, and artistic distinction.