General
Single tickets now on sale for Toronto Symphony Orchestra's 2017/18 season
July 20, 2017
As of today, individual tickets for the Toronto Symphony Orchestra's 2017/18 performance season are available for purchase online at TSO.CA, by phone (416.593.1285), and in person at the TSO Patron Services Centre or the Roy Thomson Hall Box Office.
The 2017/18 season—Peter Oundjian's 14th and final season as Music Director—is a constant stream of matchless musical experiences featuring an assortment of classical masterworks, new commissions, delightful Pops concerts, epic blockbusters, educational and family concerts, and special events.
The spotlight is on Peter Oundjian, who curates and conducts many joyful performances such as Opening Night: Life of Pi on September 19 and the final events of the season: three performances of Beethoven Symphony 9 (June 28, 29, and a recently added performance on June 30). This season is an extended celebration of Oundjian's extraordinary contributions to the TSO, and to the City of Toronto.
In a season full of awe-inspiring music by legendary composers (Mahler, Beethoven, Sibelius, Mozart, Rachmaninoff, Brahms, Bruckner, Holst, Tchaikovsky, and Bernstein, among others), many celebrated guest conductors will grace the TSO stage, including Juanjo Mena, Donald Runnicles, Bernard Labadie, John Storgårds, Juraj Valcuha, Tania Miller, Gustavo Gimeno, Stéphane Denève, Osmo Vänskä, Keri-Lynn Wilson, Christoph Altstaedt, and Thomas Dausgaard, in addition to the regular presence of Conductor Laureate Sir Andrew Davis and RBC Resident Conductor Earl Lee. TSO Pops Conductor Steven Reineke leads irresistible Pops concerts such as On Broadway, Music of John Williams, and Love, Lust, and Rock & Roll starring Storm Large. The TSO brings back the always-popular Hollywood films with live orchestra (Jaws, Home Alone, The Wizard of Oz).
As part of a season that features a great deal of Canadian content and artists, noteworthy events to honour some of Canada's greatest musicians include A Tribute to Glenn Gould and A Tribute to Maureen Forrester. And as always, the TSO welcomes some of the world's leading artists, including Lang Lang, Angela Hewitt, James Ehnes, Emanuel Ax, Measha Brueggergosman, Christopher Plummer, Jean-Yves Thibaudet, Daniil Trifonov, and many more.
Adding to an impressive list of outstanding presentations, the TSO brings to Toronto the famous Israel Philharmonic Orchestra and its Music Director, Zubin Mehta. This exclusive event—October 28 is the only Canadian stop on their long-awaited North American tour—is a once-in-a-lifetime opportunity to experience the illustrious orchestra live and under the baton of the legendary conductor before he retires.
With timeless music from Mozart@262 (January 10–21, 2018), bold compositions from the New Creations Festival (March 3–10, 2018), intimate performances by The TSO Chamber Soloists, and everything in between, the TSO's 2017/18 season is an invitation to discover, to share, and to come together.
The TSO's Canada Mosaic—a Canada 150 Signature Project—continues until the end of 2017, with concerts that begin with two-minute orchestral works called "Sesquies". In addition to the above-mentioned Opening Night: Life of Pi and tributes to Glenn Gould and Maureen Forrester, upcoming highlights that celebrate Canada's 150th anniversary include the World Première of Adizokan by composer Eliot Britton (October 7)—a new genre-bending creation curated and directed by Sandra Laronde that explores Indigenous connections to ancestral origins—Afghanistan: Requiem for a Generation (November 9 & 11) by Canadian composer Jeffrey Ryan and Canadian war poet Suzanne Steele; Alexina Louie's Triple Concerto featuring the concertmasters of the TSO, Orchestre symphonique de Montréal, and the National Arts Centre Orchestra (September 27 & 28); and With Glowing Hearts (October 21 & 22), an all-Canadian program curated by renowned conductor and Canadian-music champion Victor Feldbrill.
Note: a few performances have been added to the 2017/18 season:
• All Beethoven on Tue, Oct 31, 2017 at 8:00pm
• Home Alone in Concert on Thu, Nov 30, 2017 at 7:30pm
• Best of Tchaikovsky on Tue, Dec 5, 2017 at 8:00pm
• Holst The Planets on Fri, Jan 26, 2018 at 7:30pm
• Beethoven Symphony 9 on Sat, June 30, 2018 at 7:00pm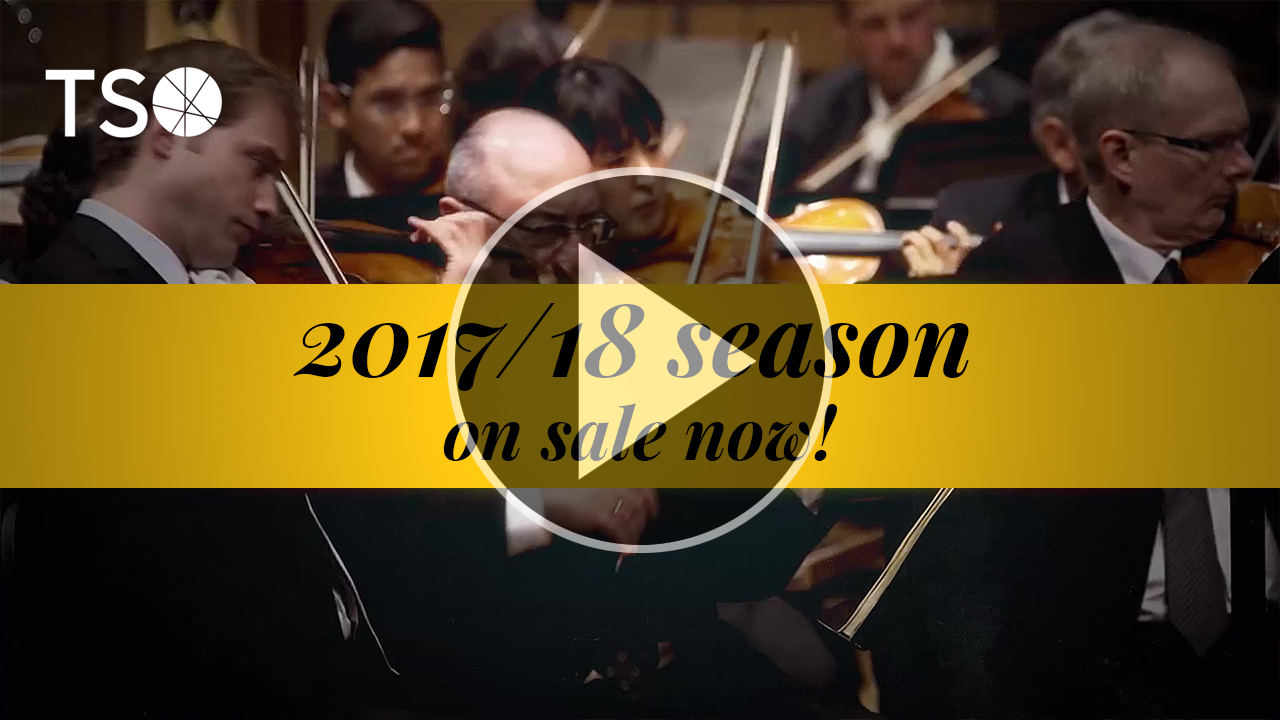 Canada Mosaic is funded in part by the Government of Canada.
The TSO Season Presenting Sponsor is BMO Financial Group.
The 2017/18 season is dedicated to H. Thomas Beck in recognition of his vital and long-standing support of the TSO.
Air Canada is the Official Airline of the TSO and the Presenting Sponsor of the October 21 With Glowing Hearts performance.
TD is the Presenting Sponsor of TSOUNDCHECK.
Invesco is the Mozart Festival Sponsor.
InterContinental Toronto Centre is the Performance Sponsor of the April 11 On Broadway performance.